The Newport Beach Ghost Ship Halloween Haunt Is Incredibly Bad.
I've been going to Halloween haunts for as long as I can remember, and no matter how cheesy or low budget they can be, I always enjoy myself a lot. That all changed last weekend when I went to a brand new haunt that I was more excited about than any other event (aside from Halloween itself) this October. So come with me on a tour of something that should have been absolutely amazing, but instead, turned out to be absolutely disappointing. Come with me for a full review of the awful Ghost Ship of Newport Beach. We begin with the promotional ad that drew us all in: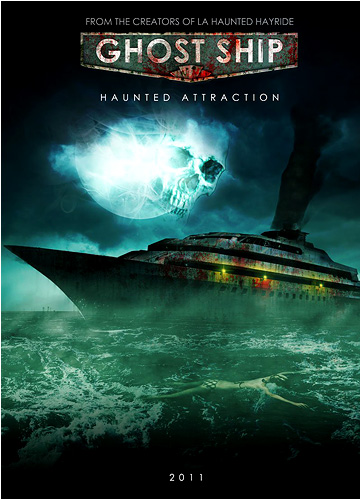 Looks great doesn't it? I thought so too. They certainly put more money into advertising the Ghost Ship than on the Ghost Ship itself. When I saw this ad and found out it was a haunt that actually takes you out to sea, I was instantly sold on it. Sure, it had a whopping $60 price tag, but the chance to go on a completely unique haunted ship with a bunch of friends is something I wasn't about to pass up. We bought our tickets early and were anticipating our ghostly voyage for over a month. October 15th finally rolled around and we couldn't wait to see what the ship was going to look like in person.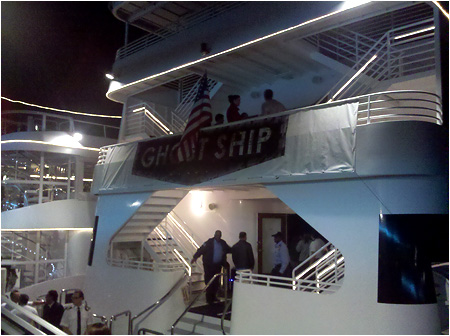 Wow. None of us could believe how normal it looked on the outside. Look, I didn't expect this thing to be rusty and have holes on the sides 'n all... the thing obviously needed to be seaworthy, but no decorations on the outside whatsoever? Come on! Spray it with some fake blood and cobwebs; drape it with some old torn black netting; hang a few skeletons off the side to use as boat fenders... anything! It was even docked next to some other luxury yachts that had big yuppie cocktail parties going on, and frankly, the only thing on the outside of the ship that distinguished it from them was a banner hanging off the back with the Ghost Ship logo on it. Of course, the banner itself was partially covered up by an American flag... I mean... a spoooooky American flag. The ghost pirate LeChuck would have their heads for such an offense.
None of us thought this was a good sign, but we bit our tongues and boarded the ship, hoping that the inside experience would make up for our completely lackluster introduction to the Ghost Ship.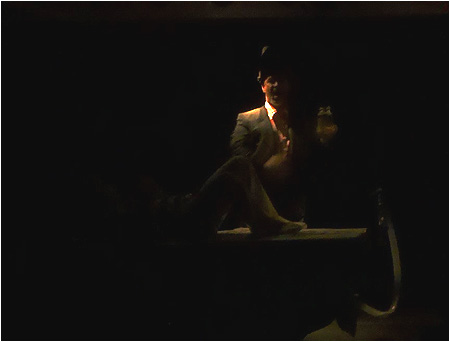 When we boarded the ship, we were directed to the top floor, where we entered a dimly lit room filled with chairs facing a stage area with a spotlight on it as we felt the vessel pull away from the dock. Once we were all seated, a man with a welding helmet walked into the spotlight and began introducing three prisoners whose executions we would witness aboard this "floating asylum" that we were on. One guy was rolled out on a dolly cart and you could clearly see that he was sitting on top of a skeleton. Then they shut the lights off and pretended to melt his bones off with acid, but it wasn't even that dark, so you could easily see the guy running off to the side of the stage as the audience collectively groaned. Then, when the lights came back on, only the bones remained on the cart. We're talking total amateur hour here, folks. The welding helmet guy even struggled to remember his lines, so we were left wondering whether he was an actor or an actual welder who they handed a few lines to read at the last minute. To conclude the show, they had a few guys run down the aisles with cans of compressed air that they shot into people's faces - one audience member even complained that it was shot into his ear saying it hurt. And no, it wasn't scary, cuz you could see them coming with cans in their hands... it was just plain stupid and I heard lots of people in the crowd saying the same thing.
After the painfully bad stage show ended after a whopping six minutes, we were then free to head downwards to one of the two remaining levels. The middle level was a bar area and the bottom level was a haunted maze you walked through. We went straight for the maze, but much of it was pitch black with very little to see, you just kind of felt your way through some inflated walls... nothing particularly memorable. It didn't last long at all either; we made it through the whole thing in under five minutes and it felt like a neighborhood yard haunted attraction at best. The longest part of the maze was waiting in a small hallway that had virtually no air being pumped into it until we were allowed to enter.
And that's when it hit us: in roughly ten minutes, we had already experienced all the major attractions the ship had to offer. Now we were all starting to feel a bit seasick, but it sure as hell wasn't because we were out on the ocean, it was because we were duped into believing this would be a scary, professional, and fun haunted attraction.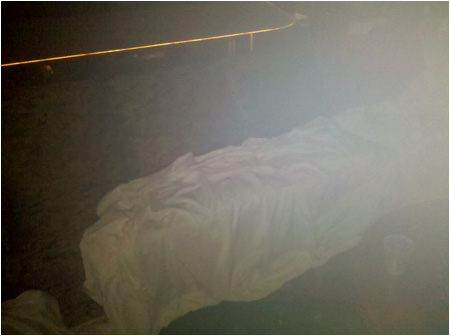 We headed up to the middle floor to check out the bar / lounge area, hoping that there would be something of interest. See that white sheet haphazardly tossed onto the couch there? Yeah, that's about as far as they went with decorations... a fog machine and a few sheets on couches. I could make a trip to any local Halloween shop, spend 20 bux on some fake cobwebs and other decorations, and I could make that ship look a hundred times better than it did. That's no exaggeration... it was that bad.
What was really sad is that the actual crew members didn't even dress up for the event. Sure, there were some paid actors wandering around in cheap costumes they bought at Target or something (I saw one guy in a Leatherface mask and a hospital gown, I shit you not), but the actual crew was dressed in standard sailor attire. Kinda kills the effect of being on some haunted ship when the members of its crew didn't even dress up for the part. The best thing in the lounge area was a skeleton-butterfly hybrid woman doing a quick burlesque performance followed by a corny magician who had almost as much confetti on hand as Rip Taylor. I don't really drink, but they didn't even have good names for the libations at the bar (which, I might add were not complimentary, despite the high ticket price). You're on a Ghost Ship for chrissakes... call one of the drinks "Ghoulish Grog" and toss a few skull-shaped ice cubes in the cup! It's not rocket science.
So there we were, with an hour left to go on our Ghost Ship voyage, we all sat around in the lounge area, bored to tears and wondering how anybody could screw up such a great concept so badly. Oh yeah... they only cared about taking people's money, that's how. A lot of customers started leaving negative reviews for the Ghost Ship on its official Facebook page too, but the organizers of the ship quickly started deleting them. On top of that, they're claiming that other local haunts were responsible for the negative reviews. Nice business, eh? I'm pretty sure I'm not a local haunt, nor were any of the other disappointed customers that night.
But at least we were out in the ocean, right? That had to be kinda creepy, right? WRONG.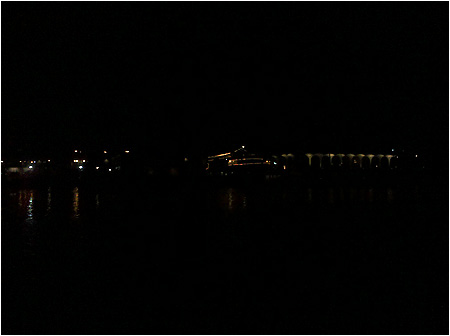 This was our view the entire night on both sides of the ship. The ship puttered around the local harbor area which had plenty of shops and homes lit up along the shoreline which we were only a few hundred yards from at best most of the time. We didn't have any feeling of being out in the middle of nowhere with no land in sight... we hardly traveled anywhere that night. "The only haunted attraction in the country that sets sail into the dark, open ocean at night for a seventy-five minute ride of horror." That's a direct quote from the official Ghost Ship web site. Open ocean my ass. Talk about false advertising...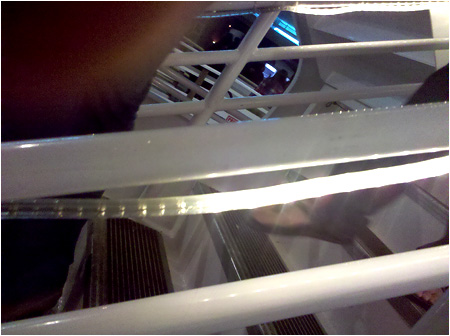 You know what else would be a good idea for the Ghost Ship? How about not having white Christmas holiday rope lights lining the entire thing. It's really not hard to find orange Halloween rope lights and they cost the same. It's a sad day when Ghost Ship the movie is better than Ghost Ship the haunted attraction.
I've been to countless haunts and reviewed many of them on this site over the past 13 years or so, and I've never been to a haunted attraction that had put so little effort into it to where I had to give it such a negative review. It felt so incredibly lazy that we all believed it was blatant, and by the end of the night, everybody couldn't wait to abandon ship. Keep in mind, none of this is the fault of the actors aboard the ship, they were just working with what little material they were given, so I applaud them for trying. The fault here lies completely with the people who run the Ghost Ship and here's hoping they're held accountable, because they sure aren't offering any refunds or real apologies. When the captain is a moron, it's time to mutiny, and some people have. Some unhappy customers have already started reporting them to the BBB, so I guess that's another first for a floating haunted attraction.
I really wish I ran this haunt myself, cuz I could easily do so much more with it it... I certainly have the experience. But hey, even though I don't work for the Ghost Ship, I decided to be a good sport and lend them a hand by parodying their promotional ad to reflect the experience more accurately: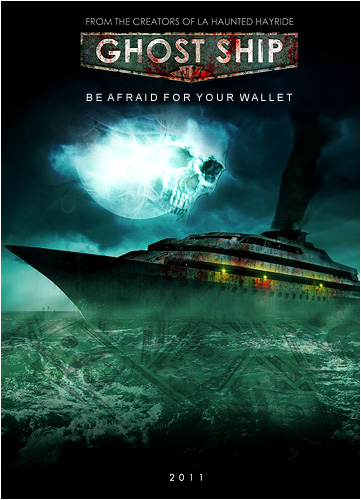 Much better.
If you're anywhere in our around Southern California, please do yourself and your wallet a favor and do not take a ride on the Ghost Ship. The sad, simple truth is that it's an absolute waste of a great idea and your money. For that kind of cash, you can enjoy a wide variety of other professional haunts all over the state who actually care about giving people the scares and fun they're looking for.
56 comments
Leave a Reply
Previous post: Tales From The Candelabra!
Next post: Boo Berry Is Back Again For Halloween!