I-Mockery's first forum contest of the 2007 Halloween season has arrived!
Now that Halloween is here, it's time we start celebrating it on the I-Mockery forums in addition to the main site. So to kick things off, we're holding a contest where you can win this giant Leatherface "McFarlane Toys' Movie Maniacs" deluxe box set figure including some background scenery, hooks, a severed arm and of course the big guy, Leatherface himself. For this contest, we want you to show us how you would hide your twisted face if you were a horror icon just like Leatherface. In order to do this,
you must create some kind of mask using anything you have at your disposal, take a photo of yourself wearing it and come up with a name and/or short story for your horrific new alter-ego
for your entry to count. Feel free to use ANYTHING you can find around the house to create your mask. If you can't find anything in your house to make a good mask, go out and buy some cheap supplies to do it. Just make sure you can write a short story explaining what your mask is about. As usual, this contest will be judged on
creativity
and
humor
.
To help show you what I mean, I've taken the liberty to whip up a quick mask of my own: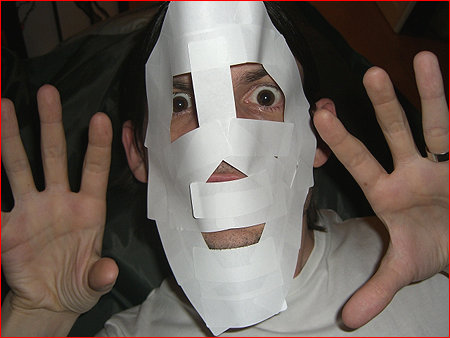 "Born into a world of never-ending mail orders, AddressLabelFace has endured countless papercuts which have left his face almost as disfigured as his rotten soul. Now he's back and ready to act out his pain on anybody who dares to place an order from him! Beware AddressLabelFace... BEWARE!"
Obviously, this is just a quick (and extremely stupid) sample entry, but it should help give you the general idea of what we're gonna be looking for in your entries so that you can come up with some truly great stuff worthy of a giant Leatherface figure.
If you have any questions still, feel free to ask.
PRIZES:
1st Place:
A brand new 12" Leatherface "McFarlane Toys' Movie Maniacs" deluxe box set figure.
RULES:
-To participate, you must register an account on these forums (if you don't already have one) and post your entries in this thread.
-Once the contest is over, myself and the other staff members will vote on the entries!
-Entries will be judged on creativity and humor.
-You MUST use at least 1 photo of yourself wearing whatever mask you have created. We also encourage you to include some backstory to explain what your mask is about.
-Whether you win or not, your entries will be put on display for everybody to enjoy.
-
Enter as many times as you like!
Ok that's it. If you have any questions, feel free to ask. Good luck to all of you and start hiding your ugly mugs!
This contest ends 9/16/07.