Zod on "St. Patrick's Day"
Slaves of the planet Houston, it has come to my attention that there is a growing problem which shows its defiant green head once a year. The problem is that many of my slaves have been worshipping someone besides me. This insolent old fool goes by the name "Saint Patrick"...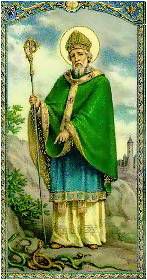 SAINT PATRICK - CLEARLY NOT WORTHY OF GENERAL ZOD!
Look at him... he actually believe he is superior because he can command some lowly snakes to kneel before him? The truth is, this "saint" is lower than the snakes which he commands. Snakes do not have knees, foolish Patrick, but humans do. Oh but you've found ways to make them kneel as well, haven't you Patrick? Do not think you can even begin to compare yourself to the almighty Zod, for while I make my human slaves kneel because they fear for the termination of their very lives, the only way you can make them kneel is by drugging them with a green elixir. No style at all...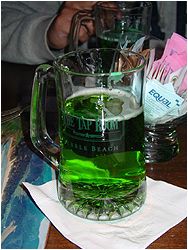 I'm sure most of you humans have foolishly consumed your fair share of these green "beverages" during these so-called Saint Patrick festivities. What amuses me most, is how this Saint Patrick has deceived you puny mortals. He entices you with these colorful liquids, making you believe that once you consume them, you shall be overflowing with green holiday glee. I suppose "overflowing" is a somewhat accurate description of what happens to a slave when it decides to abandon Zod and join the cowardly Saint Patrick. Behold: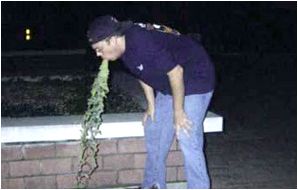 Yes. You see, you humans have been mislead by this "saint" who wishes to fill your bodies with green toxins. Toxins which cloud your minds and eventually bring you to your knees. But fear not, as the only being on planet Houston that is worthy of worship and undying devotion, I have decided to destroy this false deity...

DIE AS YOU DESERVE TO, SAINT PATRICK!
There, now that you have witnessed the destruction of this pseudo-saint, I believe it is time for all of you slaves to get back to doing what you do best: Kneeling before Zod! And I am sure it goes without saying that from this day forth, Saint Patrick's Day will no longer be. In its place, you shall all praise Saint Zod's Day forever!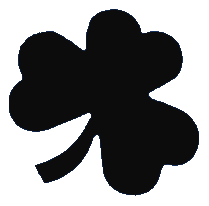 NOW KNEEL BEFORE THE ALL-POWERFUL BLACK SHAMROCK OF ZOD!
---
Be sure to show your support for Zod: