Our in-depth look into the madness of Mexican Monografias continues. If you missed the last one all about prostitution, be sure to check it out first! Now let's dive into another wonderfully educational batch of monografias...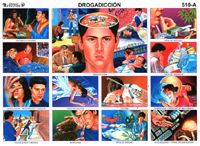 DROGADICCIÓN!
Today's monografia is all about drug addiction, something I'm sure a large portion of I-Mockery's viewers are quite familiar with. That being said, let's take a gander at each of the panels from this one to see what lessons we can learn. And of course, I'll do my best to translate them as accurately as possible.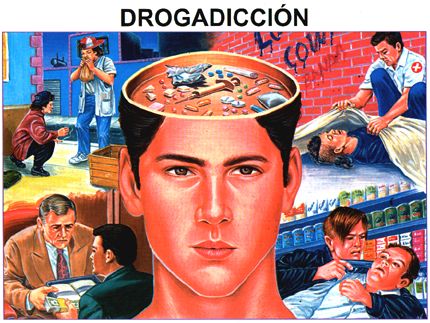 "The only way to take drugs is to saw off the top of your skull and place them gently inside it. Otherwise, you'll end up in a horrible situation such as sticking
up a grocer or being killed by an EMT who hated your horrible hairdo."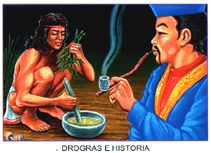 "Geronimo and Fu Man Chu used to be buds, until Geronimo caught Chu
trying to steal some of his stash. He then scalped Chu."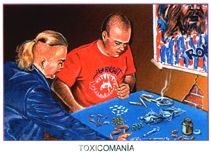 "If you stare hard enough, the drugs on your table will spell out a
message to you. For example, the drugs on this table clearly says:
'One of us is a cyanide pill... can you guess which?' "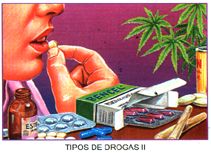 "If you're sick, don't read the instructions. Just take all of the
medication you can find in your house until you feel better."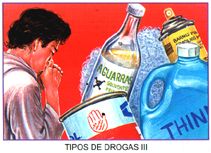 "Cocaine and heroin are fine 'n all, but if you want the ultimate
high, set yourself on fire with one of these flammable liquids."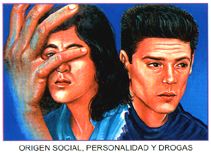 "Unfortunately one side effect of taking drugs is that their scent attracts
the giant hand monster which permanently attaches itself to your face."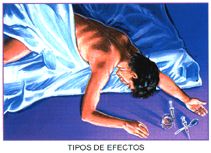 "If you've been raped, fret not my son... drugs will take the pain away."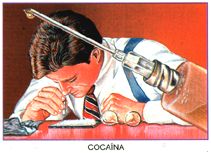 "When you take drugs, you'll always be trying to get that same feeling
you had from your first hit. The secret to getting it? Bigger needles."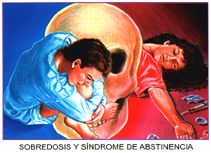 "Once you start taking drugs, you can't stop. Remember: Abstinence kills."

"Even mushrooms like to pop a few pills and get high from time to time."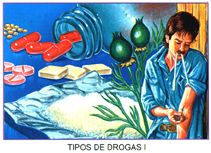 "Most people don't realize it, but a pat of butter can get you high too."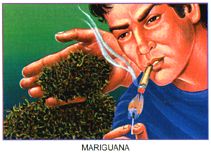 "Mariguana is the cousin of Marijuana. The difference?
Mariguana is made from rabid bat guano."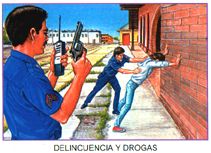 "Before cops decide to shoot a junkie, they have to call it in."
Alright, that's all for the Mexican monografia posters about drug addiction. So are you ready to learn more? Then it's time to look into PROBLEMAS SOCIALES!